Arabesque International has been active in the region since 2000, and has observed how rarely the local population takes an active interest in artistic performances. The lack of a familiarization process was often the missing element.
Knowing the benefits that music and arts bring, we made it to our goal to reach out and familiarize a broader audience with it. Pursuing an effective approach, we identified the concept of chamber music as a format that would fulfill our purpose.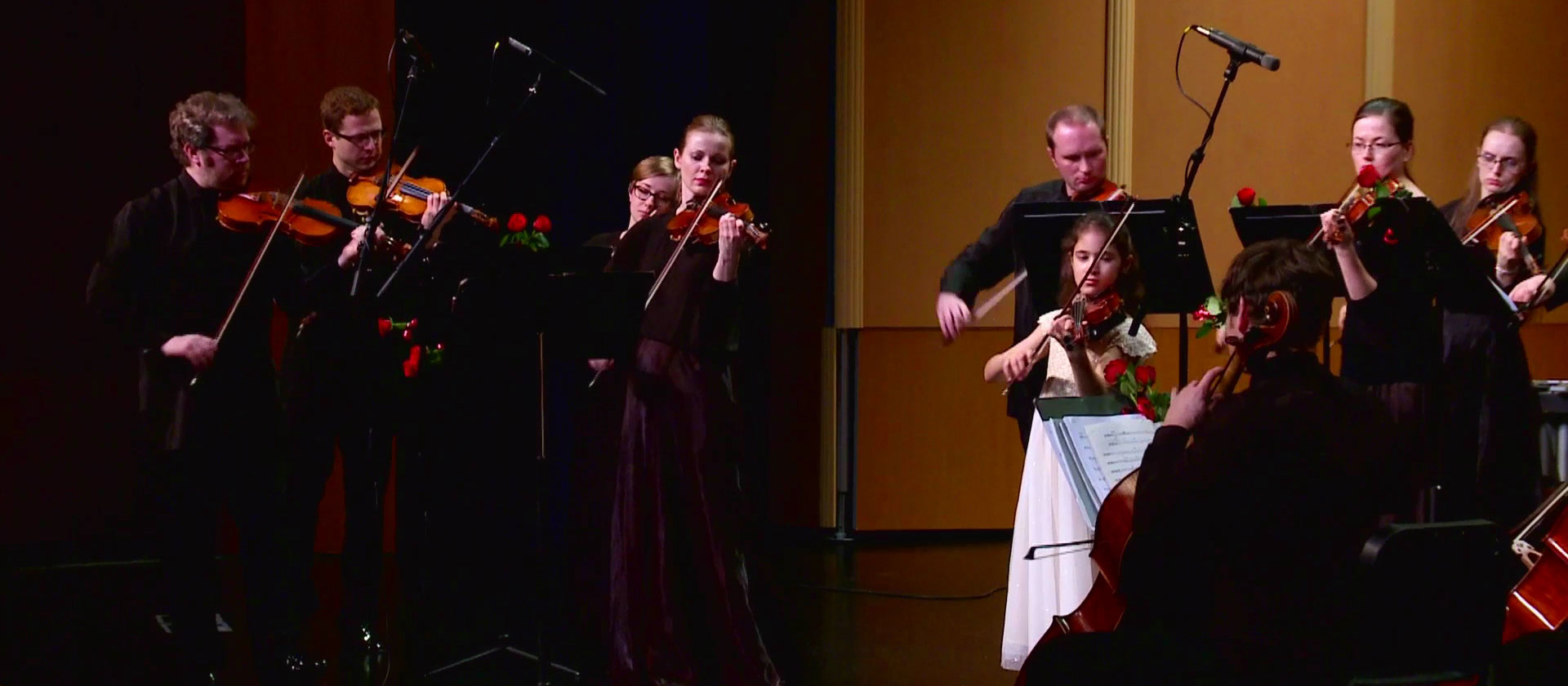 What is chamber music?
Chamber music is a type of music that is traditionally performed by a small group of instrumentalists, in a relatively small space. Historically, it originates from within the home, when members of a family would get together and spend their afternoons playing music. It is a very bonding experience and was therefore also used to strengthen family ties. There are traces of it throughout many centuries and societies and it is also applied with the combination of very diverse instruments. Over time, many composers have written music for such ensembles and the format has also evolved to encompass professional groups which perform in public.
Due to the extreme flexibility of the chamber music format, as well as the limited amount of instrumentalists involved, we can hereby tailor events that are both extremely targeted to suit our goals in spreading music and that are at the same time very cost effective and easy to handle logistically.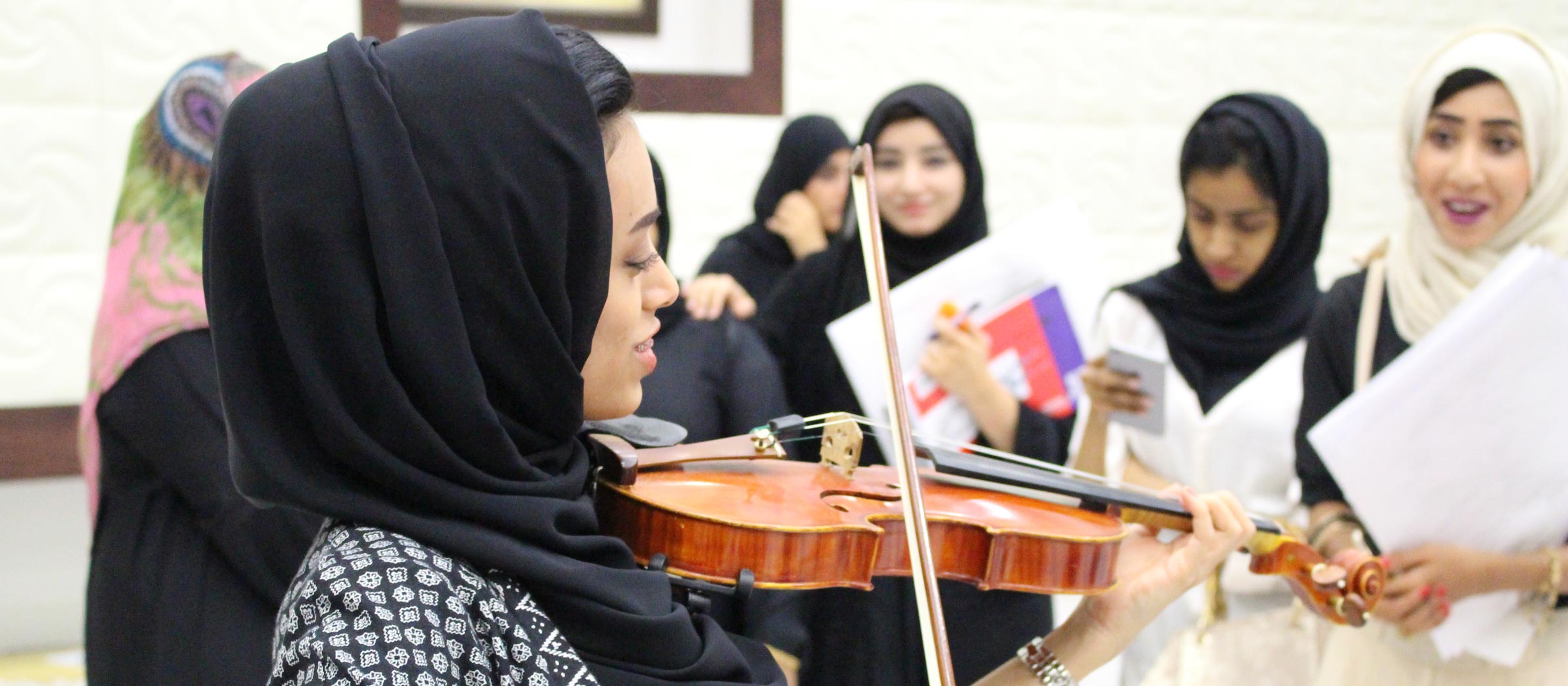 The concept is to bring experienced high-quality chamber music ensembles to Muscat for a period that would range between one to two weeks. During their time there, they would do educational and outreach activities in schools, will give targeted master classes to young musicians of institutions such as the Sultan Qaboos University's Music Department and will perform a concert towards the end of their stay, open to the public. Arranging concerts with local musicians is also a target, to help boost cultural exchange.
The opening of the Muscat Chamber Music Series Season I (2014 – 2015) took place in April 2015 where some of the musicians of the renowned Kremerata Baltica Chamber Orchestra gave workshops to students of different ages from the American British Academy, the French School, Al Wattayah and a master class to professional musicians from the Oud Hobbyists association. By the end of the master class, they exchanged their music experiences by performing together. The outcome of the oriental, together with the European musicians was so innovative, inspired by the differences of the two cultures. On April 9th, Kremerata Baltica Chamber Orchestra gave the opening concert of Season I at TAISM (The American School International Muscat) in front of an absolutely delighted audience of all ages.
Arabesque International is looking forward to presenting Season II of the Muscat Chamber Music Series (2015 – 2016) in which different music styles like: Arabic & Western classical music, Jazz and World music will be presented and introduced by professional artists coming from Lebanon, France, Germany, Netherlands, Egypt and India to stay in Muscat for a specific period of time to give workshops and masterclasses to the Omanis of all ages and hold concerts.
[unex_ce_button id="content_bt0yn1hvw" button_text_color="#ffffff" button_font="custom_one" button_font_size="26px" button_width="content_width" button_alignment="center" button_text_spacing="0px" button_bg_color="" button_padding="140px 120px 140px 120px" button_border_width="0px" button_border_color="#000000" button_border_radius="0px" button_text_hover_color="#ffffff" button_text_spacing_hover="0px" button_bg_hover_color="" button_border_hover_color="#000000" button_link="http://arabesqueint.com/work/amira-abouzahra-on-tour/" button_link_type="url" button_link_target="_blank" has_container="1" in_column=""]AMIRA ABOUZAHRA ON TOUR[/ce_button]
[unex_ce_button id="content_1hkjdyao0" button_text_color="#ffffff" button_font="custom_one" button_font_size="26px" button_width="auto" button_alignment="center" button_text_spacing="0px" button_bg_color="" button_padding="120px 120px 120px 120px" button_border_width="0px" button_border_color="#000000" button_border_radius="0px" button_text_hover_color="#ffffff" button_text_spacing_hover="0px" button_bg_hover_color="" button_border_hover_color="#000000" button_link="http://arabesqueint.com" button_link_type="url" button_link_target="_blank" has_container="1" in_column=""]VISIT ARABESQUE INTERNATIONAL SITE[/ce_button]